Projects & Publications
PinotBlanc - Valorisation of the grape variety Pinot blanc in alpine viticulture
PinotBlanc - Valorisation of the grape variety Pinot blanc in alpine viticulture
Funded by: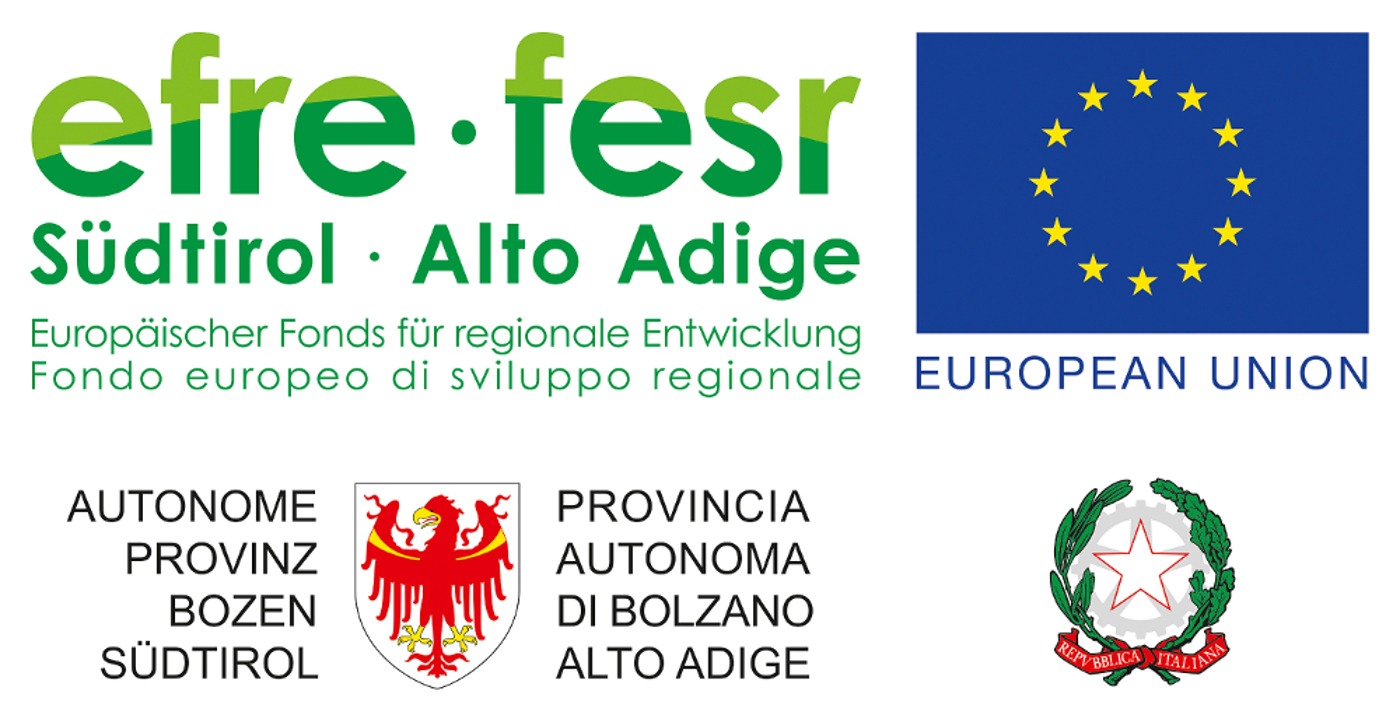 European Regional Developement Fund (FESR 2014–2020)
Aim of the project:
Pinot blanc is one of South Tyrol's leading vineyard varieties, which has achieved international success due to its high quality. It is characterised by a relatively high acidity and a fresh, fruity aroma. However, the typical aromas are harmed by the warming climate in South Tyrol. Indeed, the start of ripening of the grapes has been anticipated by an average of two to three weeks from 1980 to 2010, and this showed a negative impact on the varietal aromas of South Tyrolean Pinot Blanc. One possible way to secure and even increase the quality of Pinot blanc would be to move the vineyards to higher and cooler sites.
To date, however, there are only a few scientific studies that investigate the quality of Pinot Blanc and can show the altitude influence on wine quality.
Therefore, the Pinot Blanc project aims at:
• Characterize the most important flavor molecules related to Pinot blanc quality and show their relation to altitude, cultivation and vinification techniques;
• Adaptation to the negative effects of climate change on aromas of Pinot blanc through the expansion of cultivation areas to higher altitudes;
• Increasing the quality potential of Pinot blanc wines and thus the international competitiveness of the South Tyrolean wine industry developing of a unique South Tyrolean Pinot blanc style that is internationally competitive.
Results achieved:
• Identification of the main chemical components related to the quality of South Tyrolean Pinot Blanc;
• Determination of the most important differentiating factors between higher altitudes and valley sites;
• Chemical characterisation of the aroma profile of Pinot Blanc wines from different altitude sites, mountain and valley.
These results were presented to the stakeholders of the South Tyrolean wine industry in the context of expert presentations at conferences and courses, as well as in a YouTube® - Live Event and in local and international trade journals and scientific journals. These results can now be included and evaluated in the choice for location, cultivation and vinification techniques for South Tyrolean Pinot Blanc. The findings on the effects of higher altitudes on this variety can now show the risks, but most importantly the opportunities that the Alps might offer to our viticulture.

Project duration:
18.11.2016 – 17.11.2019

Partnership:
The current EFRE - FESR project PinotBlanc was developed in collaboration with the South Tyrolean Wine Consortium. The South Tyrolean wine industry has shown great interest in the project, which is highlighted by the direct involvement of the winery cooperatives of Tramin, Eppan, Terlan, Nals-Margreid and the winery Gummererhof.
Downloads:

Project team of the Laimburg research centre:

 

 

• Florian Haas, MSc, Florian.Haas@laimburg.it – Working Group "Physiology and Cultivation Techniques (Viticulture)" (General Project Manager)
• Dr. Selena Tomada, Selena.Tomada@laimburg.it – Working Group "Physiology and Cultivation Techniques (Viticulture)" (Project collaborator)
• Dr. Samanta Michelini - Working Group "Physiology and Cultivation Techniques (Viticulture)" (Project collaborator)
• p.a. Florian Pichler - Working Group "Physiology and Cultivation Techniques (Viticulture)" (Project collaborator)
• p. a. Ulrich Pedri, Ulrich.Pedri@laimburg.it – Working Group "Methods and Knowledge Transfer" (Project Leader)
• Fenja Hinz, MSc - Working Group "Methods and Knowledge Transfer" (Project collaborator)
• Martin Zejfart, MSc, martin.zejfart@laimburg.it – Working Group "Methods and Knowledge Transfer" (Project collaborator)
• Amy Kadison, MSc, amy.kadison@laimburg.it - Working Group "Methods and Knowledge Transfer" (project collaborator)
• Dr. Peter Robatscher, Peter.Robatscher@laimburg.it – Laboratory for Flavours and Metabolites (Project leader)
• Dr. Valentina Lazazzara, Valentina.Lazazzara@laimburg.it – Laboratory for Flavours and Metabolites (Project collaborator)
• Gian Marco Riccio, gian-marco.riccio@laimburg.it - Laboratory for Flavours and Metabolites (project collaborator)
• Mag. Philip Coassin, philip.coassin@laimburg.it - Working Group "Project Management" (Project management)
• Dr. Franziska Maria Hack, Franziska-Maria.Hack@laimburg.it – Working Group Science Communication and Event Management (Project communication)

 

>>> Video of the Pinot Blanc final event <<<